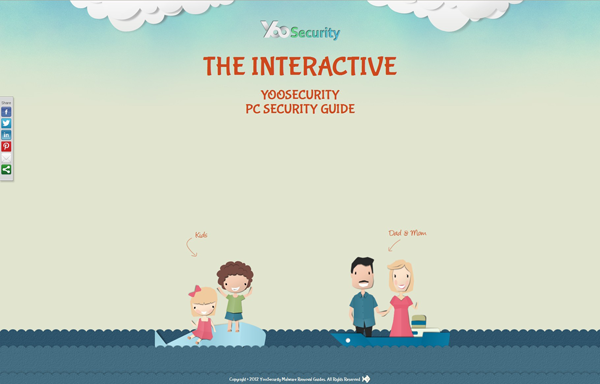 On June 3, 2012, the product manager Richard from YooSecurity, a legit security brand from YooCare, contact us and ask for a quote to make an interactive guide to educate the general public on PC security. He spoke with one of our designers directly on this matter as it is quite important for them to get more attentions and regonitions as more and more malware are speading all over the country, like YooSecurity FBI locked computer scam , and many others (these are the information required for this this project).
After we have obtained sufficient information from them, we have estimated this can take us months to complete, as it will have to run perfectly on PCs and mobile devices, and about 1200 creatives to be makde in the guide. The first guide is YooSecurity PC Security Guide (updated: we have completed the work, you can visit here), made to teach how to be safely use computer either online or offline. The second one is YooCare PC Guide, designed to educate how to use computer for adults and kids. We will complete the second one at Jan. 2013 (not really sure the release date yet). We will keep updated here with the release link (note: we have been contacted the guide will be released on their blog.
In this project, our designers Johen Lee, Mke Lou and Ken Mye have worked with their 100% passion and excellent communication skills to make our client happy. We sincerely hope this project meets the wonderful goals set by YooCare and YooSecurity team!